When you own a home, regular property maintenance is just something you have to do.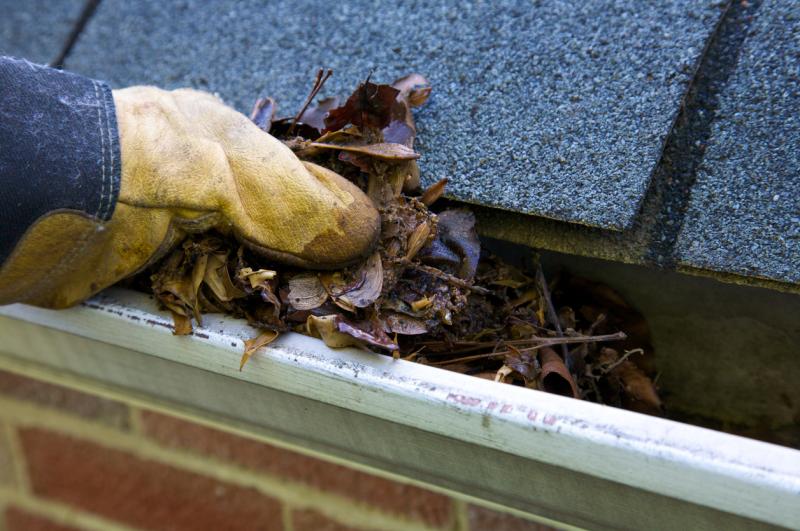 It's that constantly full job jar that encourages homeowners to gain new skills, keeping their homes in tip-top shape and protecting their properties from damaging weather. Not to mention, DIY can be a lot of fun!
Regular maintenance also means a future decision to sell your home will be an easy one, since you will know your repairs are up to date, and your home's systems in tip-top shape. When the home inspector visits, he or she will be impressed.
Autumn home maintenance for your home's exterior can be done by homeowners themselves, or contracted out to companies that specialize in property maintenance services – for example, landscaping companies, which sometimes handle snow clearing, too.
At Real Home Inspections Niagara, our experts are well-acquainted with the construction industry, both for homes and as it applies to commercial buildings. We have seen what can happen to properties that aren't properly maintained to protect them from winter.
With that in mind, our RHI team came up with a list of home maintenance tips we would like to share with you. We kept it to the 10 most important tasks, so get your job jar ready and prepare your castle against damage from winter's wrath!
Our RHI team likes to start with big systems and big jobs, leaving the smaller jobs for free evenings and weekend days. Our team members suggest spreading the maintenance out over a few weekends, so they are working outdoors when the weather is still relatively mild.
Examine roof, eavestroughs, fascia, downspouts and siding for damage from summer's storms. Niagara had lots of rain this summer, so take a good look inside eavestroughs and clear them out to be ready for winter. Now is a good time to install leaf guard systems on the eavestroughs, if you wish. Remember to check out the chimney and foundation to see if any repairs are required.

Tidy landscaping, trimming trees near the home and protecting shrubs and herbaceous borders with fertilizer, mulch, burlap wrapping and other protection as required. Seed and fertilize lawns and crop close, ready for winter's slower growth period. Trim back perennials and remove spent annuals from the garden. Tidy edging and remove and store any lighting systems that aren't cold-weather friendly.

Wipe down and put away summer's toys, such as patio furniture, umbrellas, gazebo screens, flower pots and children's playthings. Empty and drain hoses, turning off water at source and leaving spigots open to prevent freezing. Store all in a dry place, such as a shed or garage.

Attend to any repairs required on window screens, entryways, garage and shed doors and other outbuildings. Put up storm windows now, if necessary, so you can be working outdoors while temperatures are still mild. Give windows a wipe-down while you are at it, so winter's sunshine will still sparkle off the surfaces.

If you celebrate Christmas with lights, now is a good time to put them up and check all electrical connections and timers. Working outdoors is much easier for homeowners now, before the temperatures drop and the ground is covered with ice and snow.

Locate winter's tools, such as snow shovels, ice melt, anti-freeze and your car's winter survival and first-aid box. Make sure everything is stored where it can be easily accessed, and add or update the survival box to include fresh matches or a new lighter; candles; heat retention blanket; water bottle and snack items, like granola bars. Make sure nothing in the survival and first-aid box has expired, including your car's fire extinguisher. Now is a good time to service the snowblower, if you have one, and park it where it can be accessed, in case winter should arrive unexpectedly.

Let's move indoors to your HVAC systems. Have boilers and furnaces serviced before you need them. Also have fireplaces serviced: Have chimneys cleaned, and call a professional to perform annual maintenance on gas fireplaces. Stock up on wood, if your fireplace is woodburning. Clean or change any furnace filters, and vacuum out fans thoroughly. Test the thermostat and bleed radiators, if applicable. If it's time to clean ducts, have it done now before the weather becomes cold. Protect air conditioning units outdoors from damage by weather, as necessary.

Get into the attic, if you can, to make sure your insulation and ventilation system are in good condition. Poor insulation can lead to ice dams in the winter, which can cause damage to roofs and leaks inside the home. If repairs in the attic are required, now is the time to get them done, before it becomes an emergency.

Change batteries in smoke and carbon monoxide detectors to ensure they are in good working order. Stock up on batteries; candles for lanterns; lighters or matches; canned goods; water and flashlights, and store in a cool, dry place to be accessed in case of emergency.

Finally, prep your home's soft furnishings for winter: Lay down floor mats and boot trays; wash winter outdoor clothing; check children's boots and snowsuits for sizing and replace as necessary; stock up on inexpensive mittens or gloves (you know they will go missing!); wash winter linens and blankets (hello, flannel sheets!) and take your cold-weather clothing out of storage.
This list may seem exhaustive, but our RHI team suggests starting early, say anytime after Labour Day, and wrapping things up by mid-November. That gives you a few weeks to get quotes and have repairs made, if they should be necessary.
You want to know your home is set to weather the worst, be it freezing rain and ice, excessive snowdrifts or power outages brought on by winter's wrath.
Keeping your maintenance up to date will ensure you're in the best shape possible to sit out the worst stuff Mother Nature can dish out.
Is your home ready for inspection? Book a Real Home Inspection Niagara service by visiting our website at http://www.rhiniagara.com/book-an-inspection, or by calling 905-401-7586. Our office serves the Niagara region and surrounding areas, and is open 24 hours, seven days per week.