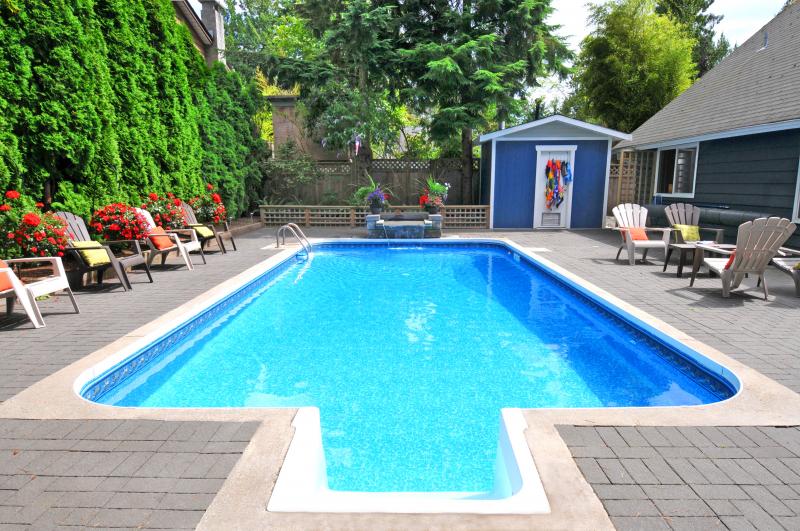 The experts at Real Home Inspections Niagara know a thing or two about love at first sight.
Especially when the item in question is something as big as a house.
A couple who are RHI clients saw the house they eventually purchased listed by a local real estate agency.
They looked at the photo of the home, and it was "love at first sight," they told us. "It's a charming, older home!"
This older home, which the couple said needed "some work," had much to recommend it. A tree-lined street; room for family; proximity to schools and to transit … and because of its condition, a reasonable price tag.
But, at the home inspection stage, RHI discovered a few problems that caused the couple's insurance company to request some work be done before full coverage could be issued.
Our feisty couple went ahead with the purchase (and their smart realtor helped them to get the price reduced slightly, because of the work that needed to be done).
The couple agreed to have all work completed before taking ownership, so their insurer issued a renovation policy for the home, covering the property against damage during this period. The contractor our clients chose also carried a hefty liability coverage that protected the home from damage caused during renovations.
(A note about insurance: It's a good idea to check with your insurance company before beginning any renovation. You may find, especially if the premises are vacant, your existing policy won't cover you during this time. Also, if you are using a contractor, make sure he or she carries full liability coverage for both individuals and materials. Check out the insurance tips on the Insurance Bureau of Canada's website, HERE.)
Among the changes recommended for this home, the big thing was to have outdated knob and tube wiring removed, and the home rewired and fitted with a new electrical panel, with adequate circuits bringing the electrical systems up to code. This actually affected some of the home's lighting fixtures and ceiling fans, which were replaced with new ones.
An upgrade was made to the home's heating and cooling system, changing out an old boiler and radiators for a high-efficiency forced-air furnace. Ductwork and cold-air returns were added to make this possible. Air conditioning was also installed.
A 25-year-old hot water tank was replaced, and plumbing fixtures were updated.
The home had two wood-burning fireplaces. These were converted to gas, with chimneys properly lined and exteriors treated. One chimney was completely rebuilt; the other, which shared exhaust with the furnace, was in sound condition and simply needed a new cap and flashing.
A sagging, dangerously tilted garage was removed. A new concrete pad was poured, and a new garage built on the site of the old one. Two doors – a heritage-themed rollup door in front, and a double door in the rear – were installed.
The yard's fence, which had collapsed in places, was removed and a new fence and locking yard gate were installed.
The home's attic, which had not been insulated, was finished with insulation. New vents were installed in the roof, which then had new shingles applied.
The home's eavestroughs were replaced, with drainage systems added to carry water away from the home.
Finally, the grade was altered in the rear yard. An old stone patio was removed to allow this, improving drainage issues at the back of the home. Drainage was tied into the eavestrough drainage system, carrying water away from the home to an area of the yard where natural drainage existed. Our couple later planned to build a deck and finish the yard with landscaping.
Our homeowners took this vacancy opportunity to have the home painted, inside and out, and in the process, the painter removed layers of paint from the front porch, some of it suspected to contain lead. The porch was wrapped so the paint being removed would not be released into the environment. Front steps were replaced, and the porch repainted successfully.
Several months' worth of changes later, and our couple were happily moving into their new, completely insured dream home.
In addition to the changes our couple made to their home, RHI experts often find other, seemingly innocuous problems that can also affect a home's insurability.
The following list – which is by no means exhaustive, as new materials/building methods and other issues crop up frequently – outlines some of the things we find, which may affect home insurance premiums:
* Age of home and overall condition (structural support, state of the foundation, roof and walls);
* Existing water damage and drainage issues, interior and exterior (does the home need weeping tile?);
* Does the sump pump have a sewer backup valve and a battery backup?;
* Eavestroughs and roof – any sign of damage due to age?;
* Condition of fireplaces and chimneys (both woodturning and gas);
* Are HVAC, electrical and plumbing systems functional and to code?;
* Is there enough insulation? What type of insulation has been used?;
* Is the home adequately vented?;
* Interior and exterior stairs and railings, condition and code;
* Fences – height and overall condition (following local bylaws);
* Decks – overall condition and height of stairs, whether railings are required per bylaw;
* Garage, its proximity to home and condition of structure;
* Closeness of outbuildings and features to your property line (is there any encroachment?);
* Use of TV antennas or satellite dishes and their placement on the home;
* Is there a finished basement space? This often raises insurance premium;
* Has any recent construction on the home been done? Why was it done? Is it to code? Are there planned renovations?;
* Is there a pool? Inground or above ground? Is pump sheltered? Is system functional?
* Do you have a trampoline or other children's play equipment? Are they properly installed and maintained, a safe distance from lockable gates and fences?, and
* Do you own aggressive or exotic pets? (Some types of pets will cause a home to be uninsurable).
It's surprising, the things that can affect your homeowner's insurance policy. Fixing the big things is smart; regular maintenance will keep the big systems operating properly and preventing further, costly damage.
Issues that can't be seen are best addressed by experienced home inspectors, like our experts at RHI Niagara. With our methods of evaluation, we are able to advise prospective homebuyers of the soundness of their intended dream home.
A solid inspection leading to an insurable property and successful home purchase is peace of mind for home buyers who are struck by love at first sight.
Are you in love with a house? Let us help you decide if it's really right for you! To book a residential property inspection, click HERE, or give Real Home Inspections Niagara a call at 905-401-7586.
Our office serves the Niagara region and surrounding areas, and is open 24 hours, seven days per week.