The inspectors at Real Home Inspections Niagara know today's family has certain needs when it comes to the electrical wiring of our homes.
The home appliances we use today are vastly different from those of the past, so we need to know our wiring is going to be able to keep up. That's why, when you are house hunting, it's a good idea to pay a lot of attention to the basement, or the room that contains the electrical panel.
Are there fuses, or does the panel have circuit breakers? If it's fuses you see, it's possible your modern appliances won't be a good match, since they'll be sharing circuits with lights and receptacles, too. You don't want to be replacing fuses every time somebody puts the toaster and microwave on at the same time. Most new panels with circuit breakers have spaces that can be customized for newer, energy-sucking appliances, like fridges, freezers, microwaves, dishwashers and dryers. Look for a panel that can handle everything you plan to bring home. Don't forget about adequate power sources that may be required for air conditioning, furnaces, hot tubs and pool pumps.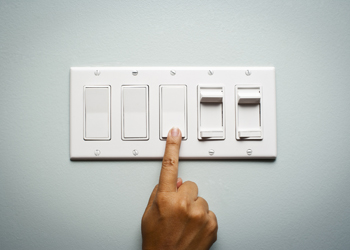 Look for basic Canadian Electrical Code applications too: ground fault circuit interrupter receptacles must be installed within one and a half metres of every sink, shower stall or tub. If there is a receptacle outside near a water source, it needs one too. Take a good look at the wiring that is exposed in the basement, crawl space or attic. Check out its general condition and look for indications that its age or composition might cause problems. Writing on the cables can indicate whether the wiring inside is copper or aluminum.
Copper was the choice of electrical wiring from the 1930s to today – however, aluminum came into vogue for a period during the 1960s, mostly due to copper shortages that caused the wire to be priced too high.
Aluminum was eventually found to be unsafe due to the fact it crusts over if it oxidizes, therefore leading to arcing and heat build up. There is a real danger of electrical fires caused by faulty aluminum wiring. Different types of receptacles are also required for copper and for aluminum wiring – choose the wrong one, and the system can fail.
If you see glass tubes and porcelain knobs, you have likely found knob and tube wiring, the oldest system of wiring around that may still be functional in some homes in Niagara. It's made up of tubes that go through flammable material such as wood, and porcelain knobs that allow wiring to change direction.
Although knob and tube employs larger gauge, copper wire that tends to stay cooler while conducting current, its downfall is that the system is ungrounded. If found during an inspection, replacement is required by Canadian Electrical Code regulations. The reason has to do with its age: the insulation surrounding the tubes and the knobs that join wiring together will most likely be disintegrating. This system is also not capable of handling the electrical current capacity required by modern lifestyles. Planning to install a new dishwasher and upgrade the refrigerator? You'll need to have the house rewired and the panel upgraded first.
You might see other kinds of electrical cables that seem a little older, but in good repair. Other types of insulation and wiring delivery supplanted knob and tube from the 1950s on: Non-metallic, sheathed cable has taken over from other kinds of cables, from flexible fabric-coated cables to rubber-coated cables, sometimes encased in metal conduit.
Popular today, homeowners will see a white, non-metal coated cable called Romex, made by the company Southwire. Romex is available in different sizes for different electrical applications.
Once you have made the decision to pursue the purchase of a home where you think there might be electrical issues, it's time to call in the experts.
The inspectors at RHI will examine your prospective new home's wiring, using traditional methods and a thermal imaging scanner to detect problems through the measurement of heat signatures. Our comprehensive report will indicate whether your wiring may have problems that, if left unchecked, could cause high temperatures leading to the danger of fire.
Our report might even save you money on your purchase price, leaving finances available to apply to upgrades and renovations. Remember, our work is guaranteed too, with free technical support for as long as you own your home.
Are you in the process of buying a new home? Book a Real Home Inspection Niagara service using the button below or by calling 905-401-7586.
Our office serves the Niagara region and surrounding areas, and is open 24 hours, seven days per week.